Nicholas Williams
Director of Bands
Phone: (618) 985-2940, ext. 4187
Email: nwilliams@cartervilleschools.org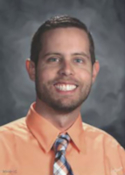 ---
Nicholas Williams is a native of Murphysboro, Illinois, graduating from Murphysboro High School in 2003 with honors. He attended Southern Illinois University Carbondale where he received his Bachelor of Music degree in Music Education, graduating cum laude in May 2007. While at SIU Carbondale as an undergraduate music student, Nick studied band methods under Professor Michael Hanes, Director of Bands Emeritus, and current Director of Bands, Dr. Christopher Morehouse, who also mentored Nick in wind band conducting. Other conducting mentors include Dr. Susan Davenport, Director of Choral Activities, and Professor Edward Benyas, Director of the Southern Illinois Symphony Orchestra. Mr. Williams completed his Master of Science degree in Educational Administration in May 2014 from SIU Carbondale, earning his General Administrative K-12 endorsement on his Illinois Professional Educator license.
As a trombonist, Nick studied under Dr. Robert Weiss for six years. He performed in the SIU Wind Ensemble, touring internationally with them to England during the summer of 2004, as well as the Southern Illinois Symphony Orchestra, Jazz Ensemble I, the Marching Salukis, and the Saluki Pep Band. Mr. Williams was selected to become Director of Bands for Murphysboro Middle School in July 2007. During his seven-year tenure as director, the Murphysboro Middle School Band program consistently earned Superior Ratings at IGSMA District and State Contests, as well as top ratings at nationally sponsored music festivals all across the Midwest. Nick also served as the Assistant Director for the Crimson Express High School Marching Band, teaching both visual and musical elements, and coordinating Drums at Appletime, a high school marching band competition.
In July 2014, Nick accepted his current position as Director of Bands for Carterville High School. His duties include directing the school's Pride of the Lions Marching Band, Symphonic Winds, Lion Basketball Band, and Concert Jazz Ensemble. Mr. Williams also teaches 6th Grade Band and General Music, 5th Grade Beginning Brass and Percussion, and Fine Arts 200, an introductory music elective course available for high school students at CHS.
Other programs Mr. Williams has had the pleasure of working with include Belleville District 118, Belleville East High School, and Pinckneyville Community High School. He has also served on staff with SIU Carbondale's own Marching Salukis as an undergraduate assistant, organizing and running their marching band competition, Music and Motion.
Mr. Williams is a member of The National Association for Music Education and the Illinois Music Educator's Association. In his free time, Nick loves listening to live music and spending time with his family and friends.